This is the only place you can find out this much info on Trey & Matt!
Click on pictures to enlarge them.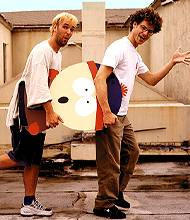 Trey Parker (left) Matt Stone (right)

Matt Stone (left) Trey Parker (right)
Click here for Yahoo's interview with Trey Parker
Click here to see Trey and Matt chatting in Aspen
Click here to check out Trey and Matt on The Daily Show
Matt & Trey did a comedy together in "Cannibal! The Musical" (1996). Trey was also in a movie called "Caddie Woodlawn" (1989)
------------ Trey Parker -------------
Originally a student of music, director Trey Parker transferred from the prestigious Berklee
School of Music to Colorado University to study film, and it was there he gave birth to his
twisted brainchild "Alferd Packer: The Musical". Parker not only wrote, produced, directed
and played the leading role in the film, he also wrote the songs and collaborated on
the score.

The film began as a three minute fake trailer made for an advanced film production class
and, as a joke the director said he was going to make the actual film. "People kept asking
'Where's the movie?" says Parker "The response was so positive, we decided we'd do it"

Together with fellow students Matt Stone, Jason McHugh and Ian Hardin (average age 23) they formed the Avenging Conscience Inc production company and raised $75,000 from private investors, friends and family by the day they needed to start shooting. They employed fellow students as cast members and took parts in the film themselves each stepping into each others shoes behind the camera when necessary. From conception to being in the can the film took around twelve months.

Alferd Packer: The Musical has had a fantastic reception at festivals and screening both sides of the Atalantic with favourable comparisons being drawn between Mel Brooks, the Monty Python team and horromeister George A. Romero.

The Avenging Conscience Inc are now working on several new projects, including a feature film about a sexual superhero and a comedy series for TV.


FILMOGRAPHY - TREY PARKER

The Giant Beavers of Sri Lanka - 1989 16mm short
First Date - 1990 16mm short
American History - 1991 16mm short
A Christmas Story - 1992 16mm short
Alferd Packer: The Musical - 1993 35mm feature
"American History" was Trey Parker's first animated film. Made in 1992 while still attending CU Boulder, the film won many awards including, believe it or not, a Student Academy Award Silver medal in 1993.
American History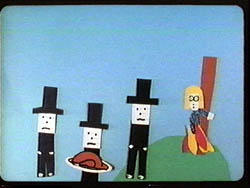 Faceless Puritans burning witches
The thrill of the "Battle of The Alamo"
The assasination of that Lincoln guy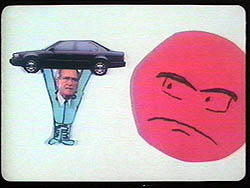 Bush blowing chunks on the Japanese Premier
You've been the
person to check out Trey Parker and Matt Stone!