POPEYE WAS BASED ON REAL PEOPLE


popeye, popeye chicken, popeye picture, popeye the sailor man, popeye cartoon, popeye the sailor, olive oil popeye, popeye movie, popeye character, popeye the sailorman
Believe it or not, it's true! Segar's old boss, (Opera House Manager), J.William Schuchert, was the model for J.Wellington WIMPY. Schuchert physically resembled WIMPY and had a fondness for hamburgers. It has been reported that WIMPY's demeanor came from another source. The obese moocher's personality was borrowed from an underhanded fight referee in Ocean Park, California.
OLIVE OYL's real-life persona was Dora Paskel. Ms. Paskel was the proprietor of a general store in Chester. She was tall, lanky and wore her hair rolled tightly in a bun. She was also reported to dress like OLIVE OYL, wearing the popular button-up shoes of that period.
POPEYE was based on Frank "Rocky" Fiegel. Fiegel was a local tough guy. He was small and wiry, just like POPEYE! There are many local legends told of his incredible strength, and his ability to fight. On September 7, 1996, Fiegel's formerly unmarked grave was marked with a headstone. The marker is inscripted with the 1929 version of Segar's Popeye character. This version of Popeye most resembles his 'real life' counterpart.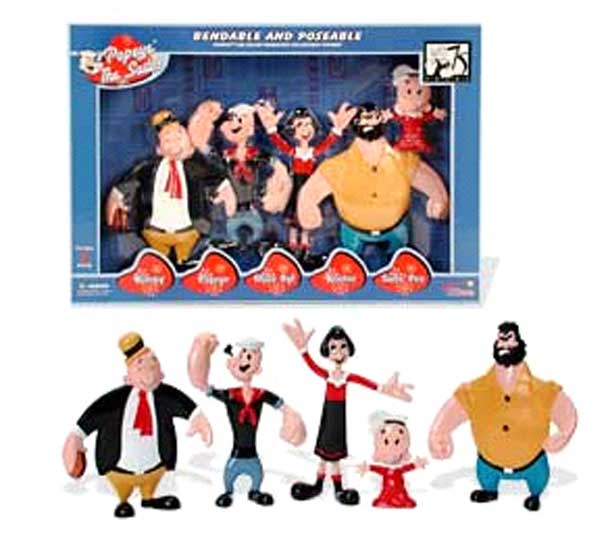 Click here for Popeye Merchandise

Absolute Popeye
popeye, popeye chicken, popeye picture, popeye the sailor man, popeye cartoon, popeye the sailor, olive oil popeye, popeye movie, popeye character, popeye the sailorman