Gumby and Pokey the Movie
That's right, friends. Art Clokey saved up enough money to make himself a 90-minute Gumby cartoon. This lavish piece of cinema debutted in 1995 in select theaters across America, when it probably would have done just as well had it gone directly to video. I think that's a shame, because this is, sadly enough, somewhat better than some of the more popular children's movies these days. It's noticably free of stupid musical numbers that plague the genre, and none of the characters are going to cute you to death. It doesn't follow any formula, and it doesn't try to beat children over the head with a moral lesson.
Still, it's one tripped-out piece of film, and I feel it's my duty to watch it, so you don't have to.
Rest assured that Art and Gloria Clokey made this look and feel exactly like the regular 6-minute shorts, but without stretching a 6-minute story into a 90-minute storyline. So, sit back, and enjoy with me, Gumby: The Movie
Opening Dilintia
Real Wheels: Watch Dave and Becky accidentally knock over buildings with their real wheels!
Rocking Real Wheels: The Sing-A-Long video
Real Animals: Spend a day with a horse!
Dream Big: Wishing Well Willy lets kids live their gender-specific fantasy occupations! Every girl wants to be a cheerleader!
Fay Presents: A collection of short subjects about that dog from Sesame Street with the dull guy narrating!
Our Cast
Gumby, Pokey, Prickle, and Goo -- The stars!
The Blockheads -- The villains!
Fatbuckle, Thinbuckle, and Nobuckle -- Apparantly, Gumby kicked Pokey, Prickle, and Goo out of his band and hired these no-personality replacements. Boo! Also, the band has been renamed "The Clayboys".
Lowbelly -- A dog who cries pearls when he hears The Clayboys perform.
Lucky Claybert -- A talent agent who looks like Dr. Wright from Nintendo's Sim City and talks like W. C. Fields.
Gumbo, Gumba, and Minga -- Gumby's family, who basically act as scenery.
Tara and Ginger -- Two Gumby groupies who meddle with the affairs of our heroes
Story
Our story opens as The Giant Clay Monolith in outer space divides in two and speeds toward Earth. . .
While looking for Gumby, Pokey annoys everyone at the fire station and gets into an accident involving Goo, Prickle, and a giant slide, molding them all together into a blob of clay. After nipping out for some emergency deconfusion surgery, we're finally ready to find Gumby and get this movie started, for crying out loud. Seems he's been interfering with ceremonial dances to find inspiration for his upcoming concert. Fatbuckle and Thinbuckle pick them up and take them back to the farm/studio.
On the way back to the farm, they find several farmers passed out in the middle of the road. It seems the Blockheads are going to close down their farms if they don't repay their loans. Gumby and friends give them a stern talking-to about borrowing money and eventually decide to have charity concerts to benefit the people stupid enough to do business with the Blockheads. During rehersal, Pokey is briefly jealous of how much time Gumby's spending with his new band and Goo discovers a pearl next to Lowbelly.
We jut violently forward to Gumby's first benefit concert, where the music messes with Professor Kapp's head and makes Lowbelly cry a big old pile of pearls. Goo, Prickle, and Kapp aggressively ignore this, but it doesn't escape the attention of the nearby Blockheads, who steal the pearls and surmise that the dog cries pearls when he hears the music.
Gumby and friends celebrate the concert's success at a little ice cream parlor, where Prickle gets dozens of shakes spilled on him and Gumby makes a deal with Lucky Claybert to go on TV. Meanwhile, the Blockheads have swapped Lowbelly with a robot in hopes of using their recording of the concert to make her cry pearls. Unfortunately, it doesn't work unless it's a live performance. Glad to see they got the scientific details right.
Two Gumby Groupies, Tara and Ginger, stalk Gumby and friends back to the farm/studio and don't play any role whatsoever as Lucky arrives and hammers out a contract with Gumby in his stack of hay/office. Shortly thereafter, the Blockheads, cleverly disguised as people from the TV studio, pick up The Clayboys and their instruments (except Gumby for some reason) and make them ride in the back of a refridgerated truck. Tara and Ginger, the little fan girls that they are, decide to follow the truck. But wait! That's not the TV studio! It's the Blockheads' evil lair, and they're making clones of the frozen-stiff Clayboys! The real Clayboys are locked up and one of the robot clones is programmed to capture Gumby!
Back at Gumby's farm, robot Lowbelly is playing in some manure, much to the confusion of the others. Gumby is rather quietly kidnapped while the others try to give the dog a bath. When the dog shoots sparks and melts into a metal endoskeleton, they realize something isn't quite right. Gumby is cloned and locked up, just like the others. With their full collection, the Blockheads make the robot Clayboys perform, but Lowbelly still won't cry pearls, dammit.
Tara and Ginger escape, just as the Blockheads program the Gumby droid to kidnap Pokey, Prickle, and Goo. The girls arrive just in time to save Gumby's friends. The 'bot is disabled, and everyone, along with Lucky, goes to find the lost Clayboys. They horribly defeat the Blockheads, rescue Lowbelly, and begin thawing the Clayboys. Unfortunately, Fatbuckle, Thinbuckle, and Nobuckle melt and have to be taken over to Professor Kapp's and they use sound waves to unmelt the band.
The Blockheads escape their not-so-restrictive bonds and have the Gumby robot capture Goo. Prickle saw the whole thing and tells Gumby about it. Gumby decides the time has come to confront his evil alter ego. They have a merry chase through the video cassettes (yes, he can walk through those too). There's a remarkably inaccurate Knights of the Round Table movie, where Gumby fails to pull Excaliber from the stone and his evil counterpart succeeds. A swordfight ensues, while some very apathetic heroes watch on. Gumby is sliced in half, but he takes it right in stride and escapes to Battle of the Nebulae (Star Wars, anyone?), his evil double in hot pursuit. There's a light sabre duel where Gumby is sliced into chunks, but he escapes yet again. Fortunately, Gumby finally gets a clue, and he has his dad (the fireman) spray it with water to short out its circuits and make it melt really cool. The Blockheads' other robots meet a similar fate. The Blockheads are captured a little more securely this time and Goo is rescued.
All this heroism, and Gumby's still in time for his TV appearance. There's a an extended musical sequence ("Take Me Away"), a picnic, and finally, Gumby and Pokey return to their home planet.
Highlights
There's an awful lot of Gumby licensed products in the toy store.
There's also lots of books from previous Gumby cartoons for fans to spot. Fun!
The doctor examines Prickle, Pokey, and Goo on a Cat Scan that looks like a real cat.
The three-character blob has a crunchy chocolatey center.
Prickle admits that he had no idea what he was before he read a book on dinosaurs.
A Blockhead puts letters in mailboxes with a laser gun sound effect.
Gumby accidentally knocks over a giant array of glassware and chemicals in Kapp's lab. The professor shrugs it off and doesn't even bother to clean it up.
Kapp's chemical analysis computer not only assures Gumby he has a real pearl, but also gives him its current market value.
Professor Kapp: Oh my! This music does things to my brain!
Prickle: It does things to my spine!
Goo: It makes me feel funny all over!
The Blockheads' computer sounds like a cross between Dr. Sbaitso and HAL2000.
Gumby's four-seat car comfortably fits eight people and one dog.
The Blockheads' fictional television station is called KBLM. Ka-blam! Ah, I have to find some way to amuse myself.
Gumby is ridiculously incapable of recognizing the Blockheads.
I mean, there is *absolutely* no reason why Gumby would have been left behind on the first run. The Blockheads knew they needed him, he was right there, and if the band really thought they were going to a TV appearance, why would they leave him behind? Maybe I should stop trying to figure it out.
The Blockheads have a giant waffle iron with blinking lights labeled "Computer Bank".
Prickle suggests they get some help from the police to apprehend the Blockheads. This idea is immediately discarded in favor of a risky direct assault.
Prickle's voice gets a weird echoey effect when he finds a key.
Lucky notes that "It's colder than a witch's heart" in the chamber where the band is being held. I thought the expression was about a different piece of witch anatomy.
Goo: I found a robot that made soup!
Kapp tries desparately to sound scientificky by calling the speakers "sound emitters".
The Groobee's crates don't seem very impressive after Gumby breaks one apart with his bare hands.
Gumby's mom has one line in the entire movie, and it just doesn't sound like her. Minga doesn't even talk.
The "Take Me Away" song is some sort of love number between Gumby and one of the groupies, implying that he has somehow come to love her in their 90 minutes or so together, when all the time we know that his heart really belongs to Goo and that he'll eventually leave her shattered and disillusioned. Yay!
Clips from various cartoons from the 80's show play over the credits. In particular, there's Gumby's metamorphosis from Fun Day.
If you watch the credits all the way to the end, you get to hear Pokey say "Holy Toledo!" for the fifth time.
Sound Track
Take Me Away
Lyrics by Gloria Clokey
Oh. . .Gumby Oh. . .
The day that I met you I lost a piece of my heart.
Now I've got you here, nothing's going to keep us apart.
I don't have to worry, I don't have to hurry now.
You are all I need. I know we can make it somehow.
We're making a breakthrough, heading for a fall
Gumby, how can I make you see me at all?
Take me away
Oh Gumby, you do something to my chemistry
Take me away
Oh Gumby, you are a total mystery
You're green, you're clay, you're a cosmic display
How can I go on this way?
Oh Gumby Oh
Take me away
Trouble to the left, danger to the right; I feel it all around.
As long as you are near, there's no need to fear, and I won't back down.
I know you're the answer to all of my dreams.
Now that we're together, birds of a feather, we're the perfect team.
Take me away
Oh Gumby, you do something to my chemistry
Take me away
Oh Gumby, you are a total mystery
You're green, you're clay, you're a cosmic display
How can I go on this way?
Oh Gumby Oh
Take me away
Oh Gumby Oh
Take me away
Oh Gumby Oh
Take me away
This Way and That
Lyrics by Gloria Clokey
Here he comes, and there he goes
Through books and through walls
First he's here, and now he's there
He's short, now he's tall.
Look over there; I must be seeing things
He just popped out of the ground
He's kinda funny and wild all the time
It's such a wonderful show!
He's going. . . this way and that
He's going. . . this way and that
Sometimes he's thin, and sometimes he's fat
He's going. . . this way and that
How does he do it? He's up in the air
He's on a merry-go-round.
He'll make a trip to outer space
Before he ever comes down
Turn on the TV, he's got a guitar
He made his own video
He's doing backflips and shredding the air
He's unbelievable!
He's going. . . this way and that
He's going. . . this way and that
This boy is so cool, we're digging his act
He's going. . . this way and that
He's going. . . this way and that
He's going. . . this way and that
He's dancing so fast, his future's his past
He's going. . . this way and that
Look up on the stand, he's leading the band
Bringing in all kinds of cash
Helping the needy and stopping the greedy
This band's becoming a smash
He's going. . . this way and that
He's going. . . this way and that
He's doing magic, the whole place is packed
He's going. . . this way and that
This way and that
He's going. . . this way and that
He's flying through the air and coming down splat!
He's going. . . this way and that
A bendable clayboy, this way and that
A real acrobat, this way and that
He's going. . . this way and that
He's going. . . this way and that
Watch him wipe out that Blockhead attack
He's going. . . this way and that
My heart's crying pearls till Gumby gets back.
He's going. . . this way and that
He's going. . . this way and that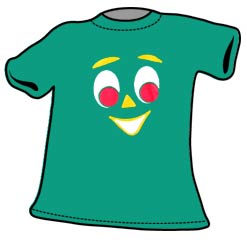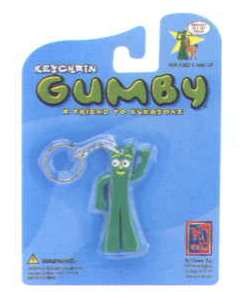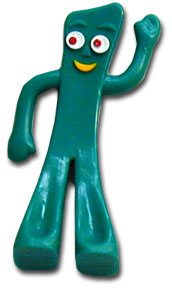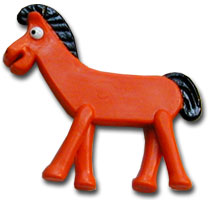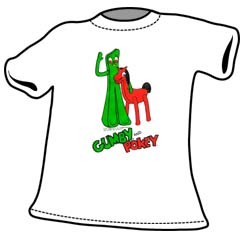 Are you a Gumby and Pokey fan? Click here for Gumby merchandise