Gumby and Pokey Early Cartoons
Oh yeah. It's a special treat to see one of these babies. You can tell them from the rest because the models look crude, Gumby has red balls for pupils (3-D eyes), and Gumby actually acts like a child. Many duet cartoons were created where one cartoon continued or was at least remotely associated with another cartoon. These cartoons often shared a lot of the same footage, making life so much easier for the animators involved. Let's watch.
Gumby On The Moon
Story
Gumby is, in fact, on the moon as our story opens. The resident sentient pyramids waste no time in investigating him. Their intentions are never made clear, since Gumby does his best to stay away from them. The moon's low gravity makes it easy for him to leap away, but it doesn't help the fact that he's slowly being frozen solid. Fortunately, help is on the way; Gumby's parents spot Gumby with a telescope, and Gumbo leaps to the rescue! Using the ladder on his fire truck, he climbs to the moon and brings his son back to the safety and comfort of his family.
Highlights
This is the second Gumby cartoon ever. It's a continuation of the first Gumby cartoon ever, Moon Trip. Isn't that special?
The outer space music is really trippy.
Gumby doesn't have a space suit or anything.
Climbs to the moon! Seriously! I saw him bringing the ladder out, and I thought, "No, not even on Gumby. . . They'd never do that. . ." It hurts. It really does.
Little Lost Pony
Story
Quite possibly the first Gumby adventure ever. Gumby meets Pokey by saving him from becoming a train wreck victim as the Blockheads watch on, dumbfounded. After padding the cartoon out with a short, pointless encounter with a rattle snake, Gumby takes the lost Pokey back to his ranch and receives a hundred ice cream cones as his reward, which he is forced to eat all at once. The cold ice cream makes Gumby lapse into a coma, and Pokey has to rush to his rescue.
Highlights
Gumby and Pokey roll around ridiculously, laughing at each others' names.
The Blockheads
Story
Gumby and Pokey are in the Old West, so they decide to get some milkshakes. Those darn Blockheads slip some ice cream into Gumby's shake which the bartender completely ignores and soon, Gumby is stiff as a board. Before Gumby recovers, the Blockheads steal Pokey, intending to claim the reward Gumby already got. Thanks to the tremendous kick from Gumby's guns, he's able to blast himself through the sky and land on the Blockheads, just in time to save Pokey.
Highlights
The swinging doors of the Milk Bar slice Gumby in half, much to the amusement of the mounted moose head.
A scene from Little Lost Pony is passed off as new material.
In the Dough
Story
Gumby's lack of cooking skills becomes painfully apparant when his pies and jelly rolls balloon into giant balls of dough in the oven. Fortunately, a lump of bread dough comes to life and offers to give Gumby and Pokey a tour of the giant bakery built into the back of his oven. Things go swell as Gumby learns the art of baking and Pokey refuses to understand anything, but things take a grim turn when the lump of dough grows about five times its normal size and reveals its sinister plan to make them into pie filling. They're mobbed by sentient baked goods, and the next thing we know, Gumby's parents find a Pokey pie and a Gumby jelly roll in the oven. Fortunately, the boys are none the worse for their experience.
Highlights
Gumby's stove is roughly one story high.
What with all the dough, this cartoon must have been really easy for the animators.
The lump of bread dough looks suspiciously like one of those Mr. Men characters.
Pokey seems to have his jaw locked open toward the end.
The stove is normal-sized when Gumby's parents return.
Lion Around
Story
Gumby and Pokey frolic merrily through the cardboard cut-out bushes, unaware that a lion has escaped from the zoo across the street! Gumbo sees the news on TV and, after watching TV a little more, he goes to make sure the kids are okay. Meanwhile, Gumby and Pokey have indeed stumbled upon the escaped lion and, after some initial apprehensiveness, they find out he's a pretty nice guy and decide to help him see the world. Gumbo gets caught in one of the zookeeper's lion traps while searching for Gumby. He's subsequently mistaken for a lion and put in a cage in the zoo. The lion gets tired of seeing the world, so Gumby and Pokey take him back to the zoo and release Gumby's father.
Highlights
The place where Gumby lives is mentioned by name: Gumbasia.
There's no lock on the door to the lion's cage, which might explain the whole escape thing.
Train Trouble
Story
Gumby wins a cereal contest. First prize: a magic sentient train that carries its tracks with it wherever it goes. Unfortunately, such a toy is hard to control. He tries grabbing it with a giant crane and trapping it with blocks, but it escapes to a nearby toy store, where it tells a larger sentient train about how Gumby's been abusing it. Gumby arrives at the store looking for the train and is confronted by the bigger train. He pulls a torero costume off a nearby poster and waves the red cape at the big train, but it generally doesn't help things. In the end, he forms a grudging friendship with the little train, shrinks down, and rides inside it.
Highlights
Gumby's last name is "Gumba", like his mom's first name.
The front of the toy store is very obviously cut out of cardboard.
Rain Spirits
Story
While Gumby and Pokey are swimming one day, a misplaced Hopi falls out of the sky, inquiring about rain spirits. They lead him back to his book, where they plant corn and Pokey is butted by a goat for not believing in rain spirits. They all go out and watch the Kachinas wander around the sky for a bit before Sky King Kachina meets Rain Cloud Kachina so that Corn Maiden Kachina can make the corn come up strong and sweet, which pleases the little Hopi, since now he doesn't have to starve.
Highlights
A shot of Gumby diving into the pool is created by putting a motionless model of Pokey in the water and dropping a lump of clay in the water.
Pokey gets wrapped in bandages after his encounter with the goat. They're gone two seconds later.
The Kachinas
Story
Taking place somewhere between the huge time gaps in Rain Spirits, this story begins with Gumby, Pokey, and the little Hopi walking straight up a sheer cliff to visit the Kachinas and beg them for rain. They concede, but on one condition: they must lay their first ear of corn on a high rock. We go through the corn growing footage again, only this time the Hopi takes an ear of corn and walks straight up a sheer cliff to set it on the high rock. Gumby and Pokey help harvest the corn, then they go and play in the Hopi's swimming pool. Pokey gets knocked in by the goat and Goat Spanking Kachina gives him a severe beating for his disobediance.
Highlights
The tunnel to the rain spirits' home is about two inches tall. Gumby and Pokey come out of it flattened.
You get the feeling that these two cartoons should have really been one, but chunks were torn out of the single cartoon and formed into two separate cartoons.
Tree Trouble
Story
Gumby and Pokey have a treasure map, which directs them to tear up a tree somewhere in the middle of the forest, much to the dismay of an owl who lives there. When they admit that they didn't have permission to do it, the owl goes into a long story about beavers who built a dam without permission, which somehow lead to floods and/or the dam breaking. The beavers' father comes along and yells at them. Gumby and Pokey are sorry, and the owl forgives them, so the three of them decide to investigate the treasure together. Turns out it's a bunch of nuts; they got a squirrel's treasure map by mistake.
Highlights
The owl's eyes are flat circles which curl up when he gets mad.
Gumby appears at the end of the owl's story as an extra in the background.
Eager Beavers
Story
It's Tree Trouble, only again. Sure, they left out the bit about Gumby and Pokey tearing up the owl's tree and replaced it with some bit about Gumby swimming up the river and more footage of building the dam, but it's the same cartoon. There's maybe one full minute of footage that's unique to either cartoon. Okay, maybe two, but that's pushing it. Pfshh.
Highlights
The trees they cut down have a sort of black center.
That river has some of the dirtiest mud water I've ever seen.
Pokey Express
Story
Somewhere in the Old West, there's a big load of letters that have to get delivered to Santa Claus, but those pesky Native Americans keep getting in the way. Gumby and Pokey decide to make the delivery. Things go fine until a bunch of conical creatures show up and start firing suction cup arrows at our protagonists. Gumby and Pokey hide in a tipi and start walking away with it, which baffles the cone creatures sufficiently that they can make the delivery. Unfortuantely, Gumby and Pokey are replaced by a buzzard, who can fly and, thus, make the delivery more quickly and with less trouble. Their line of work re-engineered out of existance, Gumby and Pokey presumably end up on the street.
Highlights
The mailman has big, huge, wildly staring eyes.
When Gumby gets off of Pokey, his legs are stuck spread wide apart which, to Pokey, means he's a real cowboy.
Trapped on the Moon
Story
It's Gumby on the Moon all over again. This cartoon focuses less on Gumby's actual rescue and more on his recovery as his parents play doctor at the Doll Hospital. They stick him in a box and zap it until he warms up and comes back to life. Gumby proceeds to grab a stretcher and run off.
Highlights
While riding his ladder to the moon, Gumbo confronts a nasty paper-mache frowny face.
There's some sorts of animals drawn on the wall of the operating room.
Yard Work Made Easy
Story
This one has special significance to MSTies everywhere because it is, in fact, the prelude to Robot Rumpus. Gumby can't play with Pokey because of all the yard work he has to do. Inspired by a strange vision of a lawnmowing robot, Pokey drags Gumby along on a little trip through the toy store, promising him a way to get his yard work done and play at the same time. They arrive at a selection of toy robots and pack them up to take back to Gumby's house. Gumby has his misgivings when one of the robots grabs something above the road they drive on and pulls the car up and down for about a minute, but they soon get the bots home and program them to do Gumby's chores. There's a few bugs to work out (Gumby gets tossed around an awful lot), but they're pretty confident that they've got a way to get the chores done by the end of the cartoon. If only they knew. . .
Highlights
Gumby's ridden on Pokey's back many times in the past, but for some reason, Gumby has to shrink himself first in this cartoon.
This cartoon has music from Band Contest, which was made some thirty years later. That sort of suggests that the sound tracks for these earlier cartoons was redone to be included in the 80's series.
Lost and Found
Story
Gumby gets 50 cents to buy a loaf of bread and a dozen eggs with a firm reminder that, if he loses the money, it comes out of his allowance. Gumby has to ride on a crane to get down from the shelf his house is on, but the crane operator delights in mixing him with cat litter, and wouldn't you know it, Gumby's 50 cents rolls into a mirror. His reflection offers to help him find it, but warns him that, in Mirrorland, everything has to be done backwards. After a jarring backwards car ride (where several towers of blocks are un-destroyed), Gumby finds the fifty cent piece buried in some cat litter. The end.
Highlights
There's several non-stop-motion shots of things happening to a stiff Gumby figure.
A lot of the "backwards" events wouldn't make sense if they happened forwards.
The Racing Game
Story
Gumby and Pokey are competing in the big race in the board game "The Racing Game". Since it's a board game, the rules are a little weird. When a whistle is blown, everyone has to stop. Depending on what space they land on, their chances of winning or losing get better or worse. Gumby starts with a huge handicap thanks to the way he chokes his engine, but he makes it up by landing on a green space. Gumby and Pokey get put inside their trophy and driven away. The Blockheads might be in this one too, but it's hard to say.
Highlights
The cars that land on black spaces are erased from existance.
The circle spaces are supposed to be red, but the film's so old, they look yellow.
The Blockheads have A, X, Z, and Y Blockheads for their pit crew.
The Fantastic Farmer
Story
Pokey's farm is in trouble! All of the corn is growing up hideously deformed, and only Gumby can help! After nearly blowing himself up with a chemistry set in the toy store, he happens upon a formula that makes the corn grow as a single, giant cob. This is just as undesirable, so he turns himself into millions of farmers and races around the field until the corn all comes up right. The end.
Highlights
Pokey writes a letter to Gumby. Pokey's head comes out of the letter and talks to him while he reads it.
Gumby has to wash his face before he can go save the farm.
Gumby handles the chemicals with his bare hands.
Gopher Trouble
Story
The companion to The Fantastic Farmer, this cartoon expains why the crops were coming up all weird in the first place. It seems that a gopher with fangs has been putting additives into Farmer Glen's seeds to make them grow more roots so he can feed his family. He gives Gumby until five o'clock to come up with an alternative food source before he undoes all of Gumby's hard work. Nessecity being the mother of invention, Gumby comes up with a box that turns grass into carrots. The gopher approves, and everyone's happy.
Highlights
The carrots from Gumby's first attempt at a carrot box make Pokey turn funny colors while sirens blare.
The way Gumby says "Hooray!" rates right up there with the way he says "Y-yes mother?" in Robot Rumpus.
Outcast Marbles
Story
Gumby is out playing with marbles one day when he's flattened by a book called "Outcast Marbles". The book apologizes and asks him to read it. It tells the woeful tale of two bright, shiny marbles who one day get turned into clay. Whenever there's a sound, they morph into weird shapes. The marbles escape from the book, urging Gumby to help them find the sound that will turn them back into real marbles again. Gumby decides to start with some bells, which are in a box at the bottom of a tower. Unfortunately, while getting at the bells, Gumby knocks over the boxes on top, which leads to the destruction of the whole toy store. Fortunately, the sound of the toy store being destroyed is exactly the sound the marbles needed, and they're able to return to their book.
Highlights
The book seems to have duct tape binding.
Gumby cries when he reads the part about how the marbles change shape with every sound.
Gumby Concerto
Story
Gumby and two giant sentient music notes go to the music department where Gumby puts on a strange little show where he plays various pianos, turns himself into hundreds of Gumbies playing pianos that dance around. . . and that's about it, really.
Highlights
At one point, Gumby blows a whistle that plays bagpipe music.
Too Loo
Story
Gumby is rather startled when, while getting up to turn off the record player, two giant sentient notes jump out of it and hide in his mouth from a sour note which also jumps out of it. When the sour note flies away on the record, the notes, Too and Loo, come out of Gumby's mouth and explain that they want to go home to the instrument they came from. Gumby agrees to take them to Music Land and help them find their home. Unfortunately, they forgot what instrument played them, so Gumby has to try them all, and they go into crying fits with every mistake. Gumby decides to put on a show to cheer them up (Gumby Concerto, I'm guessing; they don't show it in this cartoon). Meanwhile, the sour note has found their hiding place and he's using his little flying record to try and catch them. While the real notes hide, Gumby turns himself into Too and Loo. The sour note catches him, but then he turns back and catches the note. The note tells Too and Loo that they came from the flute, so we're finally able to get a happy ending here.
Highlights
Gumby flies away on the record when the cartoon's done.
In a Fix
Story
Gumby and Pokey are playing near a cement mixer one day, and wouldn't you know it, Gumby falls in and gets all mixed up. After Pokey remolds him, Gumby gets a bunch of Lincoln logs and uses them to build a cage around Pokey. Suddenly, he realizes that he's trapped Pokey in a cage. (That was pretty easy to avoid.) He must put things right, so he tries lifting weights to build the muscle tone to break the cage apart, but the "gumbells" fall apart. He eventually fires a cannon into the cage, smashing Pokey free and nearly destroying him in the process.
Highlights
There are these weird recurring football-shaped birdlike things that keep showing up.
Another bird shows up to laugh at Gumby when the Gumbells fall apart.
Gumby Business
Story
And what is Gumby's business, you ask? Seems to be just playing in the toy store. He looks at some wiggly dots through a microscope, witnesses a horrible toy car crash, falls off a high beam into a bucket of paint, cleans himself off, plays with a toy accordian, buys some gumballs. All that playing made him really tired, so he decides to relax with a nice long sit on some railroad tracks just as Pokey starts up the train that runs on them. Gumby sits and watches the train bearing down on him as Pokey doesn't do a thing to stop it, but he gets out of the way at the last second. Hmm. That's it.
Highlights
One of the toys in the toy store is a "Tickle Bee".
Moon Trip
Part 1
Story
Here it is -- the first Gumby cartoon ever. Gumby's captivated by a view of the moon from a toy telescope, so he wanders around the toy store looking for a suitable craft to take him there. He rejects everything except a really weird sorta space ship thing. He flies it around the toy store a bit, nearly mowing down his parents several times before he finally leaves the atmosphere. There's a vague threat from a paper-mache frowny face, but he arrives safely on the moon. After leaping around for a bit, he puts on some weights and really starts to explore. Unfortunately, his space ship explodes for some strange reason, and he's getting cold. He rests against a pyramidish rock. . . which sprouts eyes and starts looking at him. . .
Highlights
Gumby walks really stiffly. Otherwise, the animation is pretty much as good as it is in later cartoons.
Gumbo drives around in a toy car in some vague attempt to save his son.
The moon smiles really weird.
The way Gumby screams as he bounces around on the moon doesn't really sound like him.
Gumby looses his weights at some point during the explosion.
How Not To Trap Lions
Story
Richard the lion is lonely, so Gumby and Pokey decide to capture a wild lion and force him to be Richard's friend. And so, they drive into a book about Africa. After a precarious pit stop on a rickety suspension bridge, they dig themselves a nice, deep pit, and cover it with grass. A zebra wanders past, an elephant threatens to tip their jeep over, and a lion growls, which scares them so much that they run right into their own trap. The lion laughs at them for their foolishness and, presumably, devours them.
Highlights
This is one of the first times Gumby drove a solid vehicle into a book, and the effect is a sort of ghost car driving into the book.
Apparantly, there are ostriches in Africa.
Gumby and Pokey drive along mountain slopes that are nearly vertical and even upside-down.
The Black Knight
Story
Gumby's playing with a giant electromagnet on a crane one day, which accidentally strips the armor off of a knight who's passing by. As they sort the mess out, Gumby learns that the knight is looking for someone who can challenge The Black Knight, who has put a spell on the local dragon that makes it attack farms. And so, Gumby confronts the Black Knight, who challenges Gumby to a duel over whether or not the dragon will be freed. During the duel, Gumby slips out of his armor and uses it as a decoy to divert the knight's attention. The bad news is, now he doesn't have any armor. The local dragon happens by and, seeing that things aren't going well for Gumby, it engulfs the Black Knight in dragonfire. As the Black Knight burns like a candle for about a half hour, Gumby runs off and returns with the electromagnet to strip the Black Knight's armor off, so now the knight is nude as well as roasted alive. (He walks away from it just fine.) Gumby and the good knight ride away on the dragon. Yay.
Highlights
The Black Knight's horse tilts back and forth like a rocking horse.
The dragon is so cute!
The Magic Show
Story
The cartoon begins with Pokey spinning through limbo, calling to Gumby for help. Unfortunately, that has nothing to do with our cartoon. Gumby lands in the middle of Magic Land which, according to a living Jack In The Box, is a place where anything can happen. (So, just like any other Gumby cartoon then.) It seems like Gumby is trying to return a magic wand to a magician, but the cartoon basically consists of weird stuff happening mingled with Gumby's encounters with two fellows who guard a door that's set up in the middle of nowhere and are easily fooled when they're trying to keep Gumby from crossing a bridge. We're left with the impression that nothing ever happened ever.
Highlights
At one point, hundreds of Gumbies start appearing behind Gumby like a line of dominoes.
You can tell it's Magic Land because there are several boxes lying around labeled "Magic Set".
Mirror Land
Story
Gumby's mother sends him to buy some groceries and gives him a fifty cent piece to buy it with. Gumby goes to the garage, gets out his scooter, drives it down the driveway, and immediately runs into a fire hydrant, which makes him drop his coin. Knowing that it'll come out of his allowance if he loses it, he starts searching various nearby mirrors, where his various reflections offer no help in finding the lost money. One of his reflections offers to help, but when Gumby follows it into Mirror Land, a truck out in the real world tips the mirror over, causing everything in Mirror Land to fall over. In particular, Gumby rolls out of mirror land, where a truck dumps a load of cat litter on him. Fortunately, his fifty cent piece is in the pile. Hooray!
Highlights
The scenes with the helpful reflection are taken from Lost and Found, only Gumby's reflection has been dubbed over with Gumby's real voice instead of the fake voice he had in Lost and Found.
The coin represents Gumby's allowance for five weeks.
The Eggs and Trixie
Story
Gumby's learning about dinosaurs in school. When the teacher asks the students to picture themselves in the age of the dinosaurs, Gumby's imagination gets the better of him, and he's actually taken back in time. Whoops. He meets a young triceratops named Trixie who's very sad because her mother never takes care of her eggs and her siblings are constantly being killed before birth. To prove her point, Trixie takes Gumby to visit the nest, where some dinosaur is casually munching on the eggs, and Gumby shoos it away. They decide to build a wall around the nest, which proves ineffective when a brontosaurus reaches in, grabs an egg, and starts playing catch with it. Gumby gets another brontosaurus to help them get the egg back. His good deed done, Gumby is returned to the present. Or else he just wakes up. I dunno.
Highlights
It's a good thing Gumby brought his axe back in time to help him build the wall.
Baby Gumby
Story
Gumby was born one magical day when Gumby's parents went to the toy store, found a set of clay, and poked the green chunk until it got up and turned into Gumby. Gumby started dancing around and morphing himself and doing all sorts of weird stuff almost immediately. Unfortunately, the clay baby finds himself on the back of a train, and it's Gumbo to the rescue. And, uh, he gets rescued.
Highlights
Gumba wears a bonnet in this one.
The bit about Gumby on the train was taken directly from Gumby Business.
Gumby's parents seem a little shorter in this one.
Toy Fun
Story
Pokey's attacked by a giant robot monster! Oops, it was just Gumby playing a trick on him. AHAHAHAHAHAHAHAHAHAHAHAHAHAHAHAHAHAHAHA! Where was I? Right, right, so Gumby and Pokey find a set of Tinker Toys which build themselves into a giant tower, which climbs up to infinity. Then they play with a kaleidoscope and a weird device that flies for no real reason. Unfortunately, Gumby falls out of it, lands in a toaster, and gets baked to a golden brown, so he has to take a knife and scape off his outer layer of skin. Then Gumby and Pokey happen upon a doll house setting with a disappointingly empty box of cookies. Well, now they're in the mood for cookies, so the only thing to do is get out an Easy Bake Oven and make some. Unfortunately, by the time they're done, it's time for the cartoon to be over.
Highlights
I miss tinker toys.
Gumby can make cooking utensils appear out of thin air.
Lion Drive
Story
Remember when Gumby and Pokey met Richard the lion, who'd escaped from the zoo to see the world? This is the story of their adventures before returning to the zoo. Though there's a bit about Gumby getting stuck on a spinning record and being molded like he was on a potters wheel and another bit about Richard drinking an entire fountain of water, the big attraction here is when they happen upon a car and Richard decides he wants to drive it. Of course, since he's never driven before, this leads to "hilariously" dangerous driving stunts, ending with them crashing into an elevator shaft in a building and coming out on the top floor, only to fly past an airplane. Umm, wheee.
Highlights
Richard starts the car going backwards, and Gumby puts it into forward gear without stopping the car.
Toy Joy
Story
Gumby wanders around the toy shop like a child with attention deficit disorder, playing with any given object for perhaps two seconds while Pokey struggles to catch up with him. Why? He's trying to pick out a birthday present. When Pokey finally catches him, he agrees to help pick something out. After trying a giant rocking horse that rocks just a bit too much, he drives around in a toy car and eventually settles for a model train. Thrilling, no?
Highlights
Gumby plays organ music on a toy accordian by splitting himself in two: one to hit the keys, one to work the billows.
I had one of those rocking horses when I was a kid.
Robot Rumpus
Story
Gumby and Pokey get some toy robots to do their chores, and wouldn't you know it, they're not very cooperative. Instead of tending to the lawn and garden, the robots focus their attention on the general destruction of the entire world. Gumbo rushes to the rescue, and with some help from his son, he sets about the task of turning them off, often falling victim to their whims. With the danger out of the way, Gumby is forced to do his chores in public spectacle.
Highlights
This cartoon was featured on Mystery Science Theater 3000. As if you didn't know. Nothing was cut from the copy aired on MST3K.
Comparing this cartoon with the copy on MST3K, I've proven a long-held suspicion: they re-did the voices on all of the 50's and 60's cartoons when they included them in the 80's series.
They added a weird screaming sound for the part when a robot tosses Gumbo onto the roof of the house.
Gumbo gets a wrench tossed through him with no effect.
I just can't help adding the riffs while I'm watching this one.
Gumby Racer
Story
We're back in The Racing Game, only now there's a cross-country segment of the race. Gumby and Pokey go in for a pit stop. Unfortunately, their pit crew is a herd of Blockheads, and their car is sabotaged to death in about two seconds. Gumbo leaps from the stands and suggests that Gumby mold his body into a car. This turns out to work great, since Gumby can now use his magical powers to help him pass up the other racers. This upsets the Blockheads, so they throw stuff at Gumby and Pokey and blow bridges up and block tunnels with rocks. It's no good, of course; this is Gumby's cartoon, after all.
Highlights
There's only one lane in the cross-country portion of the race. If you didn't have a magic car, you couldn't pass any of your competitors.
Baker's Tour
Story
A little lump of bread dough beckons to Gumby and Pokey from within their oven. So, naturally, they shrink down and go in to take a tour of the bakery built into the back of their oven. The first room features dangerous automatic rolling pins which roll Pokey flat. Gumby leaves Pokey on a cookie sheet in the second room, and he mysteriously disappears. In the next room, the lump of dough rises into a threatening monster ball. They find Pokey just before he gets hit by a cookie cutter, and dozens of baked goods laugh at them. Then, uh. . . the cartoon kinda skips ahead to this part where Gumby and Pokey have somehow been made into cookies. Blech.
Highlights
The dough ball is a real jerk.
Mysterious Fires
Story
Gumby's sitting around one day, minding his own business, morphing himself around at random, when a knight approaches him, mistaking him for a wizard. It seems that he needs to find a wizard who can stop the fires that have been destroying his kingdom's food supply. And so, Gumby whips out his fire truck and comes to the rescue. Unfortunately, the fires were started by a rogue dragon. Fortunately, the dragon is a big cry baby and instantly agrees to Gumby's suggestion that he stop burning the wheat fields down. Gumby is knighted and the dragon becomes the king's pet.
Highlights
There's a running gag about the knight hitting his head on things as he rides under them.
An announcement from the king is read by a person with the head of a pig.
Toy Capers
Story
Gumby and Pokey decide to play catch, so Gumby works a giant pitching machine while Pokey mans a giant baseball mitt. Unfortunately, the machine goes out of control! When it's out of balls, Gumby goes to investigate what went wrong, only to get sucked in and pitched out. Then it's off to Car City to look at a sleek little toy car. Unfortunately, Gumby accidentally starts it up, and it whisks Pokey away! Gumby's harassed by a little yellow car for a while, until it goes back to its hive and summons a swarm of its brethren to destroy the clay boy! Gumby escapes by a hair's width. Fortunately, Pokey has gained control of his vehicle, and together they escape Car City. There's still a minute or two left to kill, so Pokey gets stuck on a monorail and Gumby climbs a tower of clear cubes to find him. The blocks collapse and Gumby goes through an unlikely series of tumbles, only to end up on the monorail with Pokey.
Highlights
The "Car City" sign sparkles when they look at it.
The tower of cubes edges to the right while Gumby climbs it.
Odd Balls
Story
This is the gripping tale of how two balls of clay follow Gumby around everywhere and morph themselves around ridiculously when they hear a sound. Man, people would watch anything in the 50's, wouldn't they?
Highlights
At one point, Gumby and the balls climb down a rope that isn't attached to anything.
Clokey's ideas of what the sounds should "look" like are pretty good.
Egg Trouble
Story
Gumby's still helping Trixie the Triceratops mind her nest of eggs. Unfortunately, a volcano starts hurling rock at them, and a few eggs are damaged. As if that weren't bad enough, a large predator decides to attack, starting a stampede of herbivores, and the entire nest is destroyed. Fortunately, Gumby hid two of the eggs in another dimension, so he and Trixie take them back to the toy store and stick 'em in an oven to incubate them. While they go play, Pokey happens along just in time for the babies to be born and start chasing him around. It's delightful!
Highlights
When Trixie is sad that two of her siblings died before they were even born, Gumby comforts her by reminding her that there's still five left.
When Gumby gets an idea about how to hatch the eggs, lots of little sparks fly out of his head bump.
Toy Crazy
Story
Our story opens with Gumby morphing himself in his sleep as he dreams of what he'll get for his birthday. He wakes to discover that his parents will let him have any one toy he wants from the toy store! Hot diggedy! And so, he and Pokey quest off to find a toy. Gumby falls in love with a toy train, but the train won't go without a fight. They trap the reluctant gift in the back of a toy ambulance, but it escapes when Gumby helps Pokey escape from a load of sand that accidentally gets dumped on him. Gumby returns home, dismayed that his present got away, but his father promises to get him a new one tomorrow, so that's all right.
Highlights
In this cartoon, Gumby's family lives in a box of clay and form themselves into bricks of clay when they're asleep.
They show Gumby's birthday cake with real lit candles. The scene took so long to shoot with stop motion effects that you can watch the candles melt.
The Magic Wand
Story
Gumby and Pokey are running a lemonade stand. Their first customer is Professor Hokus Pokus, a guy with really silly magic powers. Unfortunately, he leaves behind his magic wand, which gets out of control and breaks Gumba's good pitcher. Gumby grabs the wand, only to be whisked away to Magic Land, where he finds the giant top hat that Hokus Pokus lives in. Pokus is so happy that he gives Gumby a magic wand of his own which will perform one feat of prestidigitation. Naturally, he decides to use it to fix his mother's pitcher before she gets mad.
Highlights
Lemonade is only a penny at first, but Pokey bumps it up to a nickel when Gumby's gone.
There's a creepy Jack-in-the-Box who sounds like Professor Kapp in Magic Land.
Gumby In:
Toying Around
Story
For the first three hours of this cartoon, Gumby and Pokey stand on their heads so they can look at a doll that's standing on its head. Shortly afterward, they witness a horrible accident where a toy truck smashes down a tower of blocks. Being the kind souls they are, Gumby and Pokey spontaneously decide to rebuild it. Unfortunately, it's not to their liking, so they grab a jeep and drive through a tunnel. Then, they load up their dumptruck with blocks and drive them back through the tunnel. Finally, they take their trainload of blocks back to the tower and build it really, really high. Hooray! They decide to celebrate by blowing up a balloon. When Pokey starts drifting away with it, Gumby rescues him by firing a toy harpoon at the balloon. Pokey lands in a horn and Gumby squeezes him out.
Highlights
This was the last cartoon I ever did for this whole Gumby-watching thing. How about that?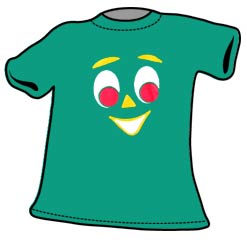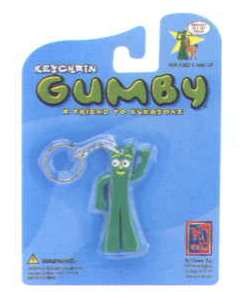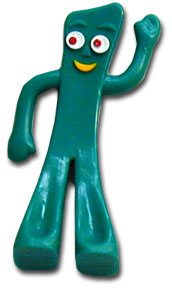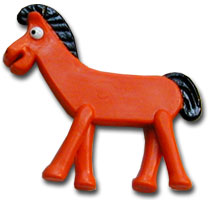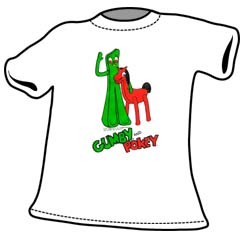 Are you a Gumby and Pokey fan? Click here for Gumby merchandise