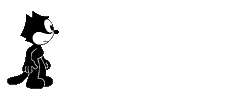 Felix the Cat
Felix was created by Otto Messmer for Pat Sullivan's Studio in New York. Felix made his first appearance in the five-minute short "Feline Follies", included as part of a Paramount Magazine serial release to Paramount-Publix Theatres in November of 1919. The years that followed brought worldwide attention to the Cat, as well as to the technology of Film Animation. (Very often this attention consisted of Pat Sullivan telling reporters, in vague terms, how he imagined some technique of "his" worked -- Sullivan was the only person to receive onscreen credit at all, despite the fact that he had virtually nothing to do with the actual production of the cartoons.)
And then, there was sound. When the world went crazy for sound in Cartoons, Sullivan decided to wait things out. While other studios were converting to sound production, Sullivan stood by, waiting for the trend to pass. Sound was eventually added post-production to a handful of silent Felix films. Astronomeows (1928) is one such example. It is both funny and beautiful. In this case, sound has simply been added over an existing cartoon in an attempt to heighten the comedy of the situation. If it is not vital to the animation; it does not detract from it.
But times changed -- rapidly. Sullivan had missed the boat. The outfit was crushed under the fast growth of studios like the Fleischers' and Disney's. Their creative forces had been drained; and they certainly had no chance of keeping up technologically. As if in an effort to call their staff back, they animate Felix around sound. The cost of the sound and the loss of the studio's staff took their toll on creativity. The animation in films such as April Maze, for example, is awkward and tragic. No longer does Felix move in the abstract, organic way that Animators like Messmer and Raoul Barré had mastered. The Cat's character changed for the worse over time, as well. He became increasingly domesticated, eventually timid and child-like.
After the gradual dissolution of the Studio and the death of Pat Sullivan in 1933, only Otto Messmer remained. Felix was no longer a marketable commodity. The First Cat to Act was now fodder for children's books. Despite all this, Otto Messmer continued to draw Felix on a daily basis, for a living, in the years that followed.
Characters like Felix have brightened so many children's lives. Continue to create the memories with all different types of children's books.
Felix the Cat Store
..
About Felix the Cat
..
Movie Posters
..
..Picture Gallery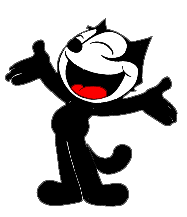 ..The 1st Comic Strip
..
Felix the Cat Trivia
..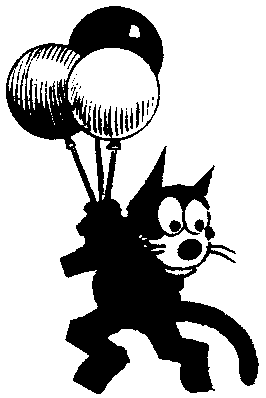 ..
..
..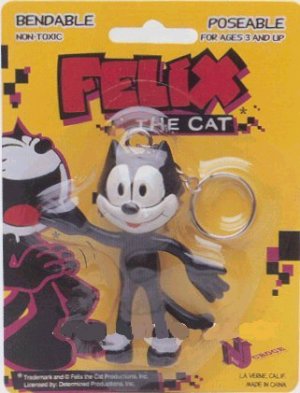 Felix the Cat Bendables
..